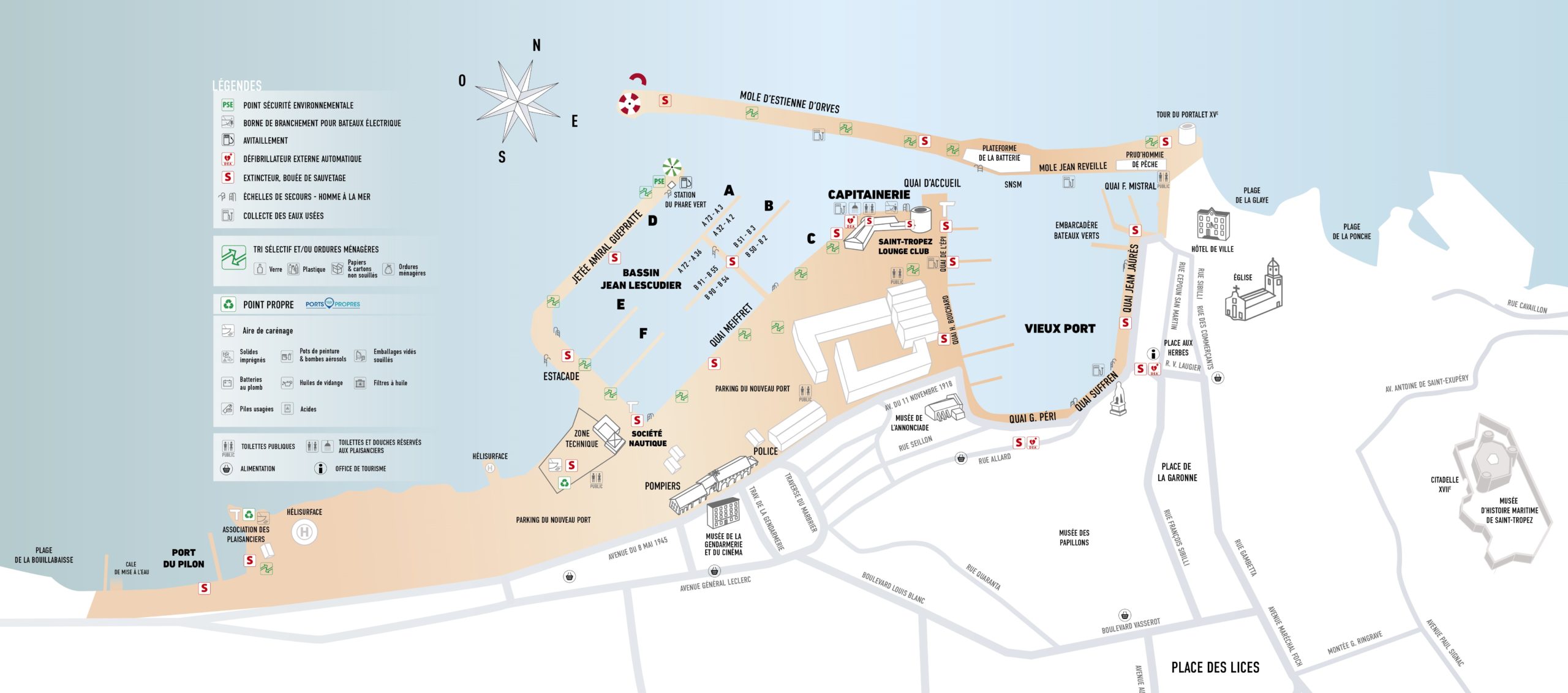 Capacity: 734 berths
Impasse: <-> 50m
Boats: <75m
VHF Channel 9
Private Club: Saint-Tropez Lounge Club
Sailing Club: SNST
Fuel Station
Technical zone (careening area, crane, waste disposal point)
Slipway for launching (Port du Pilon)
Basin Jean Lescudier
Max LOA: < 25 m
Draught : 2,5 – 5,5 m
Mooring on groundlines
Estiennes d'Orves Jetty

Max LOA : <75 m
Draught : 3,0 – 5,5 m
Mooring alongside the quay

Old harbour

Max LOA: < 50 m
Draught : 2,5 – 5,5 m
Mooring on ground lines or on anchor
Jean Reveille Jetty

Max LOA: < 30 m
Draught : 3,0 m
Mooring on groundlines

Registration
After you have moored your boat, please come to the Harbour Master's Office to register. You will need the boat's certificate of registry and insurance.
Quays
Please do not clutter the quays with equipment, vehicles, bikes, etc. Facilities have been created do not hesitate to ask our staff.
Toilet Block
The harbour has a toilet block (showers and WCs) for boat users. You will be given the access code when you register.
Services
Check all of our services and facilities in the services section.
Electric boats:
There is a charging socket for electric boats on the reception quay.
AC Output 400V – 3 P+N 32A /  DC Output 150-500V 0-125A
Environment:

We are actively commited to be responsible and to adopt eco-actions that will help preserve and protect our environment. We invite our customers to get along with us in our responsible approach and be more responsible.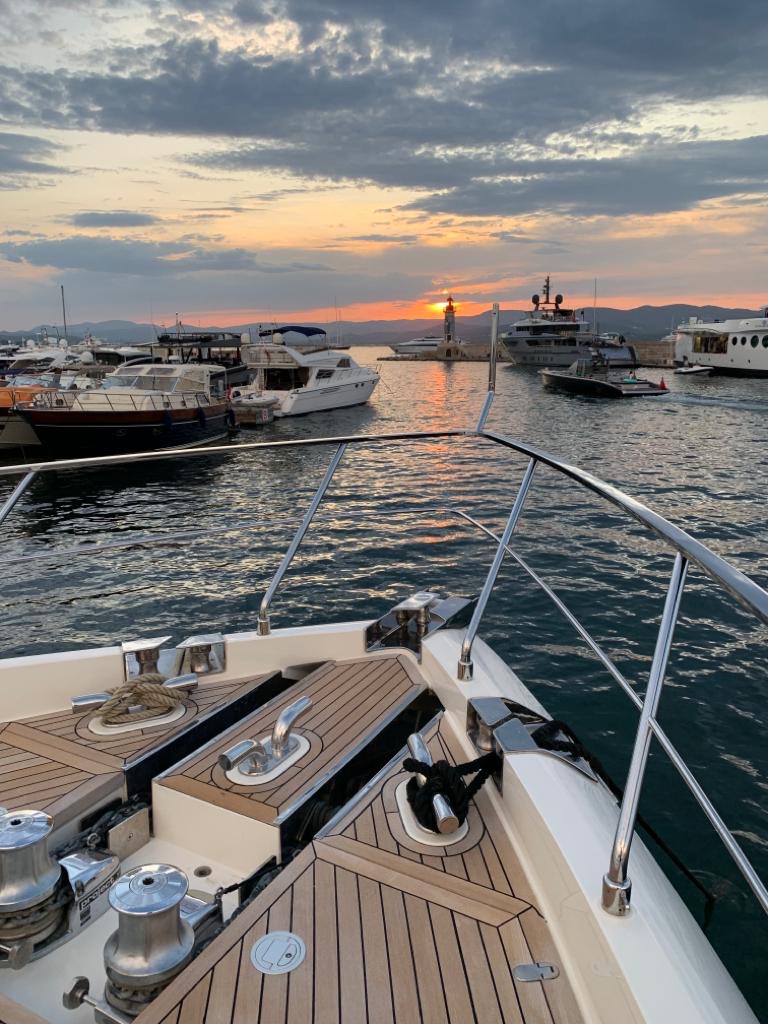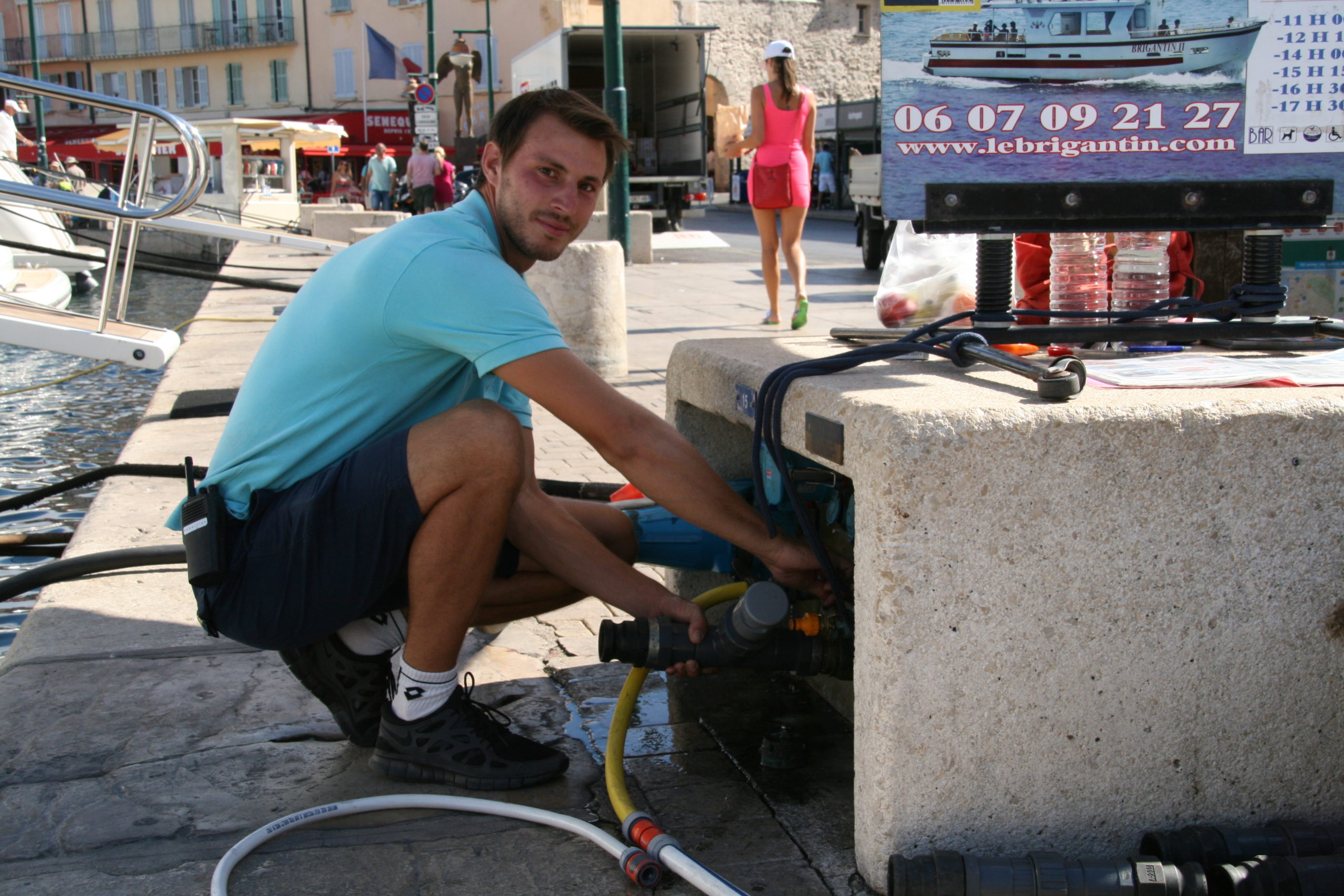 Water and Electricity Facilities
Electricity and water
All berths have a water and electricity distribution terminal.
Water and electricity are included in the berthing fees. Note: the overwintering contract does not include a 400V electricity supply.
Terminals are equipped with 240V/32A/63A sockets in the Jean Lescudier Basin and 240V to 400V delivering up to 250A in the Vieux Port and on the Estiennes d'Orves Jetty. You can hire extra sockets from the Harbour Master's Office with a deposit.
Connecting to a socket
It is important to tighten the cable seal to ensure it is watertight and secure. If these instructions are not followed it could result in the socket overheating and causing the terminal to catch fire. Anyone who does not follow the instructions could be liable for any damage incurred to equipment. Our technicians are available to help connect your boat to the shore supply. Captains are requested to reduce power consumption to a minimum before connecting to the harbour's network.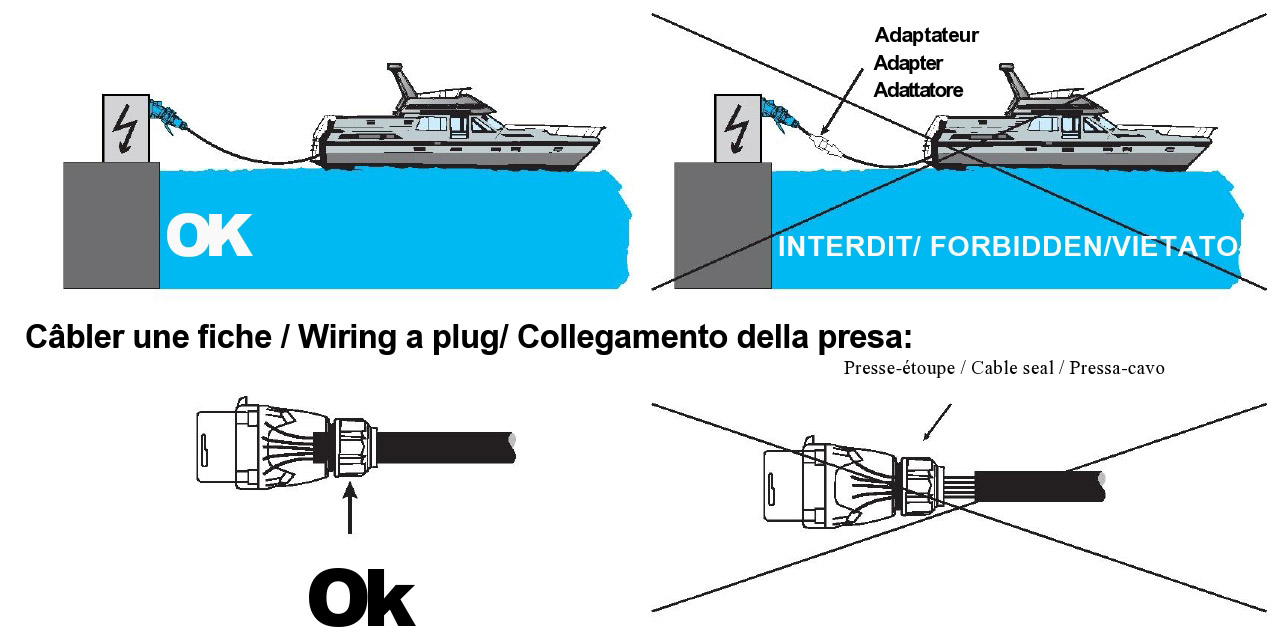 BOAT PROFESSIONALS IN THE HARBOUR
Riva : +33 (0) 494 437 505
Mercurio : +33 (0) 494 970 222
Sportmer : +33 (0) 494 973 233
Villanova–CNB (Chantier naval de Beaulieu) : +33 (0) 494 970 019
Sun Cap : +33 (0) 494 971 123
TECHNICAL ZONE
Arman : +33 (0) 6 15 444 562
FUEL STATION
Station SPV : +33 (0) 785 214 871
SNSM - LIFEBOAT
Société Nationale de Sauvetage en Mer : + 33 (0) 6 82 21 83 06
for emergency VHF Channel 16 or cal 196
Coast guard forces of Saint-Raphaël : +33 (0) 4 94 40 54 52
CUSTOMS AND ADMINISTRATION
MUNICIPAL SERVICES
City council : +33 (0) 4 94 559 000
Police station : +33 (0)4 94 548 665
Cars impound lot : +33 (0)4 94 547 548
PARKING
Parking du nouveau port : +33 (0) 4 94 977 499
Parking des Lices : +33 (4) 4 94 973 446
Parking du XVème corps : +33 (0) 4 94 972 334
Frequently asked questions
When is the high season and low season?
You may find the dates our various are applicable on this link and click on "price list"
What are the mooring fees for my boat?
Please click here to check and download our pricelist.
Do you have long term mooring rates?
Yes. One for the summer, from 1st May to 27th September, and one for the winter from 15th October to 1st April. Click here to download our pricelist.
Which services are included in your the mooring fees?
VAT, water and electricity are included in our mooring fees, except for vessels on low season contract taking 400 volts .
What's the administrative situation of the port?
Saint-Tropez's a public port. The price list's decided by the Town Council.
Can we moor at Saint Tropez Port for a few hours during the day ?
Boats wanting to come for a few hours during the day must call the Port Office upon arrival to ask if there's a berth .   The service is free of charge for the first three hours and if they don't take any water or electricity. Otherwise, they will be charged half a day according to their size.
How many nights am I allowed to book ?
Because of the important number of requests during July and August, you can only be allowed to book:
-2 nights twice a months (maximum 4 nights).
-2 nights three times a month ( maximum 6 nights) for  VIP card holders.
The rest of the year, there's no specific limit.
Is there a waiting list ?
If unfortunately we do not availability for your requested date on our online booking system you may call to be added to the waiting list during summer season. The waiting list is open to visitors with boats that are longer than 18m.
The waiting list is applicable anytime except in July and August when one must call 48h prior the requested date.
What is the longest yacht the port can welcome ?
The port has 2 positions for 75 meters yachts maximum, on the outer wall (Môle D'Estienne D'Orves).
When are the main events occurring in Saint Tropez ?
You will find the list of events and their dates on our website.
Do I need to pay a deposit to make a booking ?
Yes. Deposit is lost if the boat cancels the booking.
How can I book a berth in Saint-Tropez Port ?
Is it possible to book a berth for a boat under 18 metres ?
Is it possible to choose a particulat berth within the port ?
Unfortunately no, but you may make a note in your booking and we will try to do our best to satisfy your request.
Is the deposit refoundable in case of bad weather ?
The deposit cannot be refounded. However, in case of bad weather or very strong wind, if the port authorities decide to close the port for security reasons, the deposit can be credited on the yacht's account.
Do you have a diver service in the port ?
Yes there is. Please contact the port office for any diving services. This service will be charged on your final invoice.
Is it possible to rent shore power plugs and adaptors ?
Yes, Marechal Power plugs are available for rent: 16, 32, 63 and 250 A.
Can the port be closed ?
Yes, it can be. In case of strong wind or bad weather, Port authorities can decide to close the port for security reasons.
Is there a rules and regulation code particular to the port ?
Yes, our Rules and Regulation Code is available online and at the Port Office.
How can we drain out the grey and black water tanks ?
A free service is at your disposal to drain the black waters. Please call the Port Office to make an appointment.
Is there a special waste disposal area within the port ?
Yes, it is situated near the dry dock area, on the parking lot. On our website, you may find the
map of all the facilities
within the port concerning waste removal .